Commitment of Traders (COT) section
In few minutes I will present you some simple tricks I learnt analyzing COT data.
And some reasons why you could choose to use my service (ForecastCycles.com) to analyze COT charts.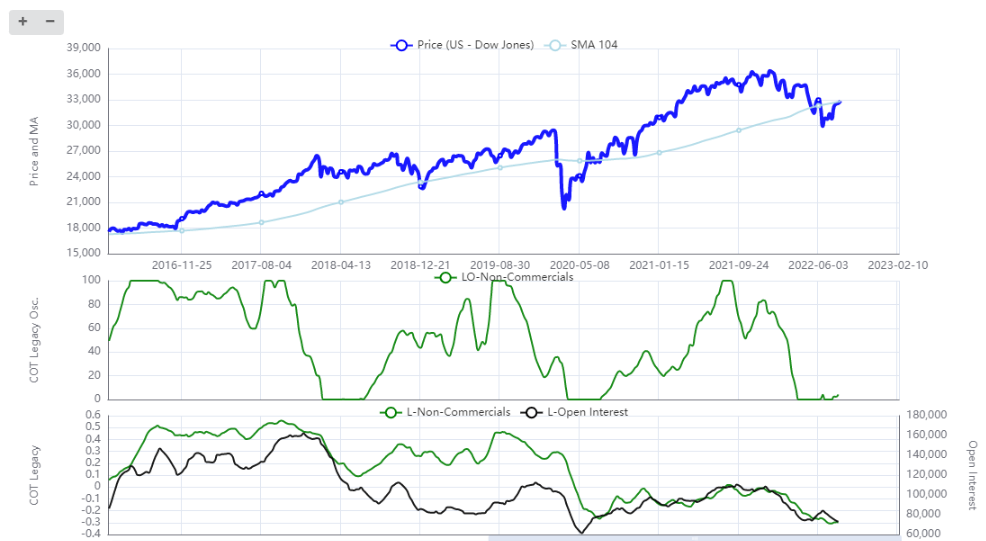 What is Commitment of Traders (COT)
The Commitment of Traders (COT) report is a weekly publication that shows the aggregate holdings of different participants in the U.S. futures market. These are compiled and published by the CFTC in the U.S. each Friday at 3pm.
Why COT data helps Retail Traders
COT data let you know how the different categories of traders are positioned. More than one category can be seen as the 'Smart Money'.
So you can see how Smart Money Guys are positioned (in futures and options) in a specific instrument and follow them. They are the Hedge Funds, Industrial Purchasing Managers, Commodity Producers: the guys with the most advanced knowledge of that market.
How to read a ForecastCycles COT chart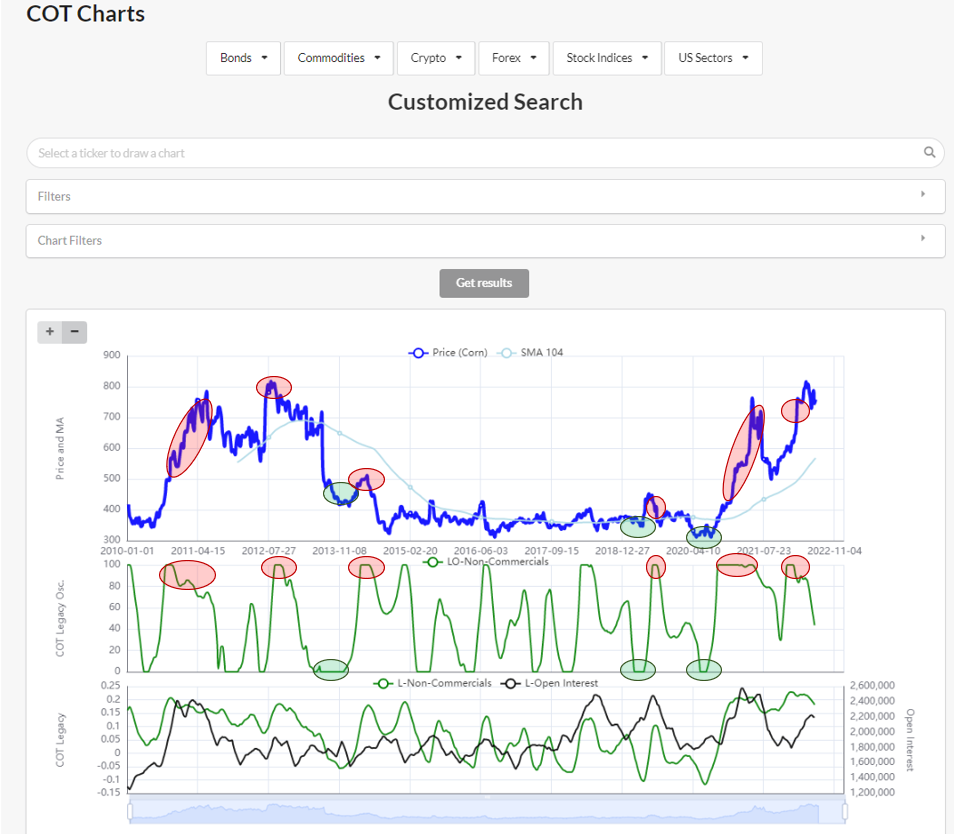 In the COT chart of Corn (from ForecastCycles.com), I highlighted some areas in which the COT oscillator was at extremes, and I transposed it into the Corn price. Its purpose is to highlight areas of over / under valuation of the price. (It is also possible to change the periods of the oscillator, now I taken the default one)
You can see that when the oscillator is in its top extreme (when Hedge-Funds have bought heavily for months), the market is often overvalued, and the price is preparing to decline, because Hedge Funds are preparing to sell to realize profits (they move large sums of money and have the ability to trigger new trends).
There are 3 subplots in the chart above:
1°: the price of Corn and its 104 week Simple Moving Average (SMA 104)
2°: the Oscillator, built over 'Non-Commercials' (large speculators such as Hedge Funds)
3°: the COT Legacy original data, in this case are plotted just 'Non-Commercial' and 'Open Interest' because they are the best to be seen to analyze Corn.
Why ForecastCycles can be your ally to read the COT Report
It is not immediate to know how to read the COT data. There are few things to know. Let me explain.
There are 2 main COT Reports: Legacy and Disaggregated. The difference is that each report break down the Open Interest and categorize the groups of traders in a different way. So, in total there are at least 8 groups of Traders that can be followed and you don't know in advance which is the best.
Each instrument has its category of traders that give you the best insights. The advantage to use ForecastCycles is that you automatically see by default the best groups of Traders for that market because I've  already selected them by watching each category for each instrument.
The list of instrument that has COT data available

(4) BONDS: 2y, 5y, 10y, 30y US Treasury Bonds
(22) COMMODITIES: Copper, Crude Oil WTI, Feeder Cattle, Gasoline, Gold, Heating Oil, Lean Hogs, Live Cattle, Natural Gas, Oats, Palladium, Platinum, Silver, Cocoa, Coffee, Corn, Cotton, Soybean Meal, Soybean Oil, Soybeans, Sugar, Wheat
(2) CRYPTO: Bitcoin, Ether
(14) FOREX: Dollar Index, AudUsd, EurGbp, EurJpy, EurUsd, GbpUsd, NzdUsd, UsdBrl, UsdCad, UsdChf, UsdJpy, UsdMxn, UsdRub, UsdZar
(6) STOCK INDICES: Dow Jones Industrial Average, Nasdaq 100, Russell 2000, S&P 500, Nikkei 225, VIX
(4) US Sectors: S&P 500 Energy, S&P 500 Financials, S&P 500 Real Estate, S&P 500 Utilities
Conclusions
Year after year it is harder to be profitable and even beat the market. COT Charts are one of the best tool in the hand of retail traders because they can follow Smart Money.
In ForecastCycles it is possible not just to use COT Indicators, but also to combine them with Seasonality and dozen of useful Macroeconomic Indicators to try to understand under/over valuation of financial assets.
To know more about each Category of Traders and how to customize a COT Chart on ForecastCycles, click here.
Create an account and explore our services for Free!